Sri Dasmesh bags Silver Prize in the National Choral Speaking Competition
Shouts and screams filled the hall during this announcement as we were up against last year's defending champions and other winning teams from private schools all over the country. The students performed superbly with their flawless hand and head movements, depicting the diversity of our nation. This competition was organised by the Education Ministry for Malaysian Private Schools.
Choral speaking is a specialised form of synchronised and choreographed group speech , allowing only limited hand movement, while students have to maintain their standing positions in predetermined rows.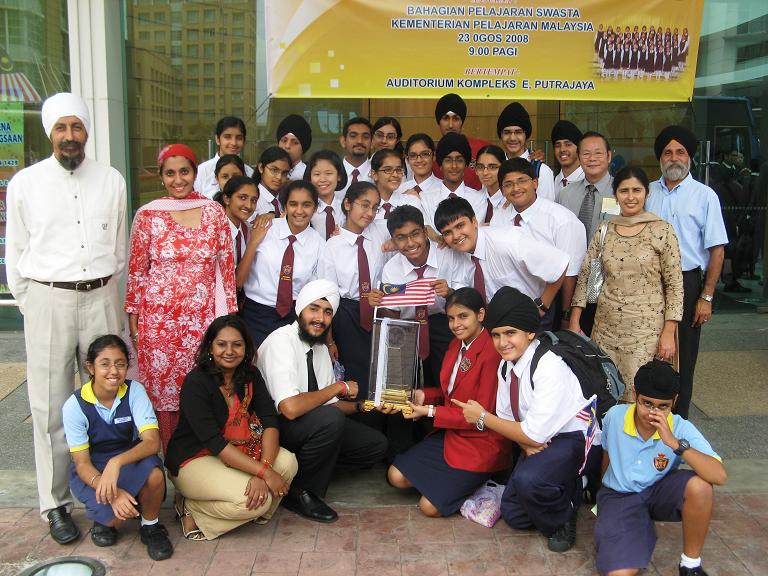 English teacher Ms Jayamathi and her team worked together in getting the students ready for the competition. 'It was quite challenging getting the students ready in the midst of their term examinations' said a beaming Ms Jaya afterwards.
The first round at State level was held in June and we emerged 2nd place. This victory was truly a reward as this was the school's first year in competition and students were nervous, knowing that they were competing against so many schools. The theme at the State level competitions was centred on student life and Sri Dasmesh wrote a script entitled 'My Primary School Days'. It was hilarious and witty, truly entertaining the audience.
Armed with the new found confidence, the students prepared for the finals held in Putrajaya on the 23rd August, Saturday. It was a tough road for the students as it was the school holiday week and many sacrifices had to be made. Students cancelled their holiday plans and diligently came to school for the practices. This was an important journey for them – it taught them delayed gratification, teamwork, tolerance and commitment. It taught them that each member was important and each member's role would make a difference to the team's effort.
In another event, student Dalip Singh won a Consolation Prize in the 'Syarahan' competition.
Sri Dasmesh is indeed proud of these victories and looks forward to many more such events in the coming years.