Peace Prayer Day
Leading the preparations for this day was the class of Secondary Four who worked throughout the school holidays, perfecting every minor detail to make this event a grand one. Excited teachers and other students too chipped in, truly demonstrating how close peace is to everyone's heart.
Invited dignitaries from the various faiths in Malaysia included His Holiness Chief Reverend Dhamaratana representing the Buddhist community, Mata Ranjit Kaur a Head Priest for the Sikh Community,  En Suhaimi Dahlan representing the Muslim community, Dr Bala  from the Hindu Sangam and Sister Jane from the Council of Churches.  
The  common message shared by the honourable guests was that  all forms of racial and religious divide should be rejected in the interest of peace and harmony. His Holiness Chief Reverend Dhamaratana in his inaugural address applauded the school on its vision to see peace across borders and further added that schools are indeed the best place to start this process as young minds are pure and can be nurtured to make a positive impact in the world that we live in.
The ceremony included a peace message and a Peace Pledge by our Peace Ambassador, student Pevinder Kaur from Secondary Four, following which the school choir sang a melodious song 'Let There Be Peace'.  The atmosphere at school was peacefully still, serene and blissful. Every, parent, student, teacher and child present was magically connected with each other through this song. The 5 invited religious representatives then released a cage full of birds signifying freedom and hope for all.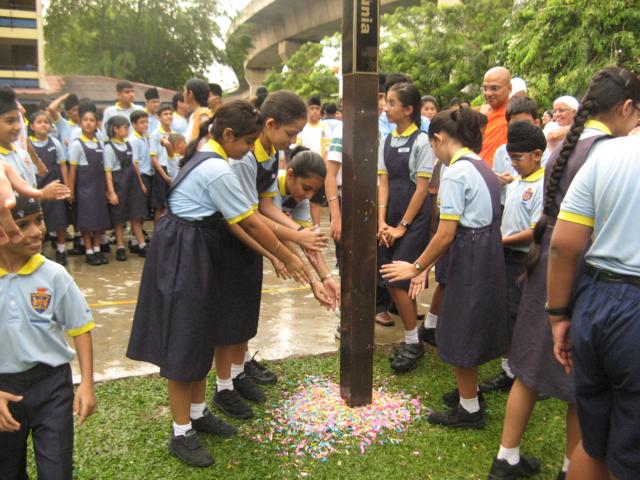 The highlight of the ceremony was the planting of a 12 foot high Peace Pole in the school compound carrying the message 'May Peace Prevail on Earth' , written in all the major languages of our diverse country. Students filed past the Peace Pole sprinkling flower petals around the pole, while saying their individual prayers for world peace. The Peace Pole stands proud in the school compound, testimony to the fact that students will cherish this moment in their hearts forever and consciously work towards peace through their words and actions.
It is common knowledge that current ills of the world today arise from mistrust and disrespect between people of different racial and religious background.  Since the future of the world is in the hands of these young children, it is in these minds that the seeds of peace and harmony can be planted. This is the very reason for the school to have initiated this celebration.
It is the school's hope that similar celebrations will be hosted by schools world wide; eventually bringing greater awareness of how important peace and harmony is in this fragile world that we live in.